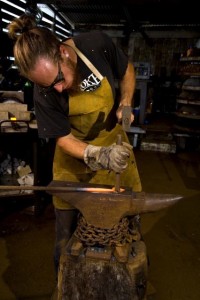 Keeping an old tradition of the ranching industry alive Ethan opened his blacksmith shop in Anna's historic barn, where once again the art of heat meeting metal rings on.
"There's a cadence, people hear me first, and when they walk by, they see me and stop. A hundred years ago the blacksmith made everything." – Ethan Froney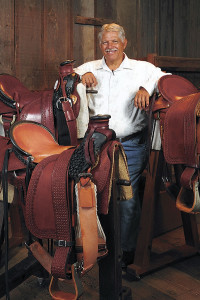 Born and raised on the North Shore of O'ahu, Master saddle maker and leather crafter, Albert Moniz decided to fulfill a lifelong dream and move to Hawai'i Island. For nearly 30 years, Albert has been making new saddles, repairing and re-building Western and English saddles and custom making other leather accessories, such as knife cases, bull whips and many other things unique to the paniolo. Albert has a passion for continuing to make the unique noho lio (Hawaiian Tree Saddle).
He remembers the many stories his father shared with him about being born and growing up on Hawai'i Island. The stories created a curiosity and desire to move to Hawai'i Island one day. Anna Ranch, located in Waimea on Hawai'i Island, was looking for just such a professional and talented person to join the historic home and heritage center as one of their in-house artisans. The focus of the heritage center is to share and promote Waimea's cultural and historical ranching traditions and we are proud to have Albert as part of our Anna Ranch 'ohana (family).
Located in the historic barn, Albert's shop shared space with our on-site blacksmith, Ethan Froney and the interactive educational center. He invites everyone to visit his shop to see his work and talk story.